Yes! Like most other Spaniel Breeds, Cavalier King Charles Spaniels can swim.
Do Cavalier King Charles Spaniels enjoy swimming?
Just because Cavaliers can swim, doesn't necessarily mean they will enjoy swimming.
Some Cavaliers don't particularly like water. If your Spaniel hates the thought of having a bath, then a different activity may be better suited.
If, however, your pooch loves water, then swimming with your Spaniel can be a good source of exercise, a great experience and incredibly rewarding, for both you and your dog.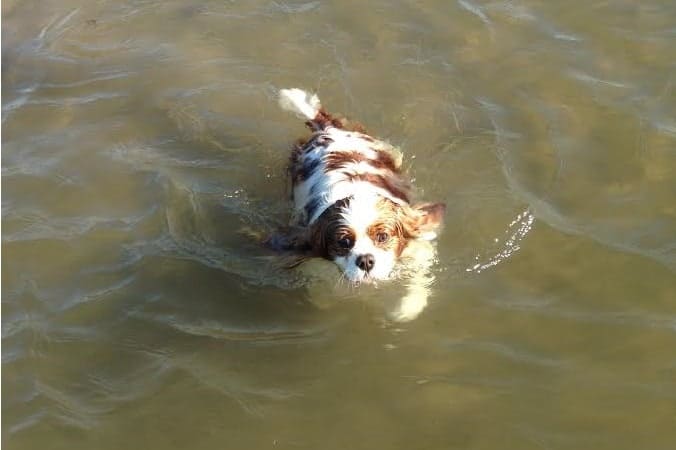 Image courtesy of Twitter user @HilaryHanberry
Teaching your Cavalier King Charles Spaniel to Swim
If you want to go swimming with your dog, you're going to have to start with the basics.
The first thing you need to do is teach your dog to swim. Some dogs may just do it on their own, others may not.
No matter what the breed or age, any dog will make mistakes when swimming. They may swim in the wrong direction or they could chase after something.
Be sure you are ready and aware the first time you introduce your Cavalier King Charles Spaniel to water.
Most dogs will only doggy paddle with their front paws. So when you first go swimming, try doing it together and support your dog's back legs in order for him to use them.
Once your Cavalier King Charles Cavalier Spaniel is comfortable, move to swimming with only a dog life vest until they are able to swim by themselves.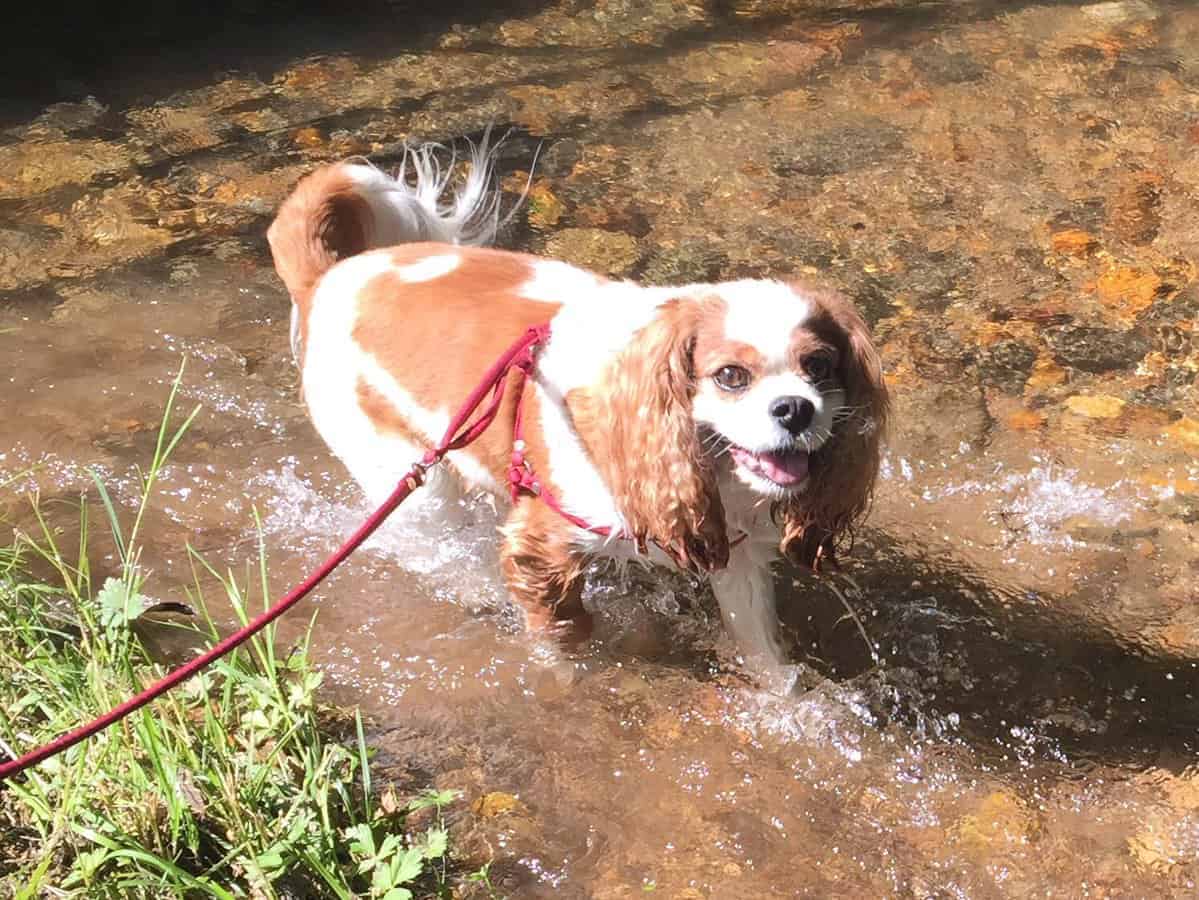 Image courtesy of Twitter user @1720maryknoll
Health and Safety Precautions for Swimming with your Spaniel
While there is lots of fun to be had swimming with your Cavalier King Charles Spaniel. There are certain things you should do beforehand in order to make swimming safer for you and your Cavalier King Charles Spaniel.
Get Pet Insurance Swimming with your Dog is inherently dangerous.No matter how good you think you or your dog are at Swimming, accidents can still happen.Check out our handy Pet Insurance Guide
Avoid Severe conditionsSuch as cold, rough, choppy water or heavy rainSwimming is great fun, particularly in the warmer summer months. It is, however, advisable to avoid swimming during the colder months.It's often difficult to judge the temperature of water in advance and prolonged swimming in cold water could lead to health issues such as hypothermia.Likewise, it is highly advisable to avoiding swimming in difficult water conditions. Swimming in open water such as Sea or even Lakes is going to be much more dangerous than swimming in a confined swimming pool.
Clean and Dry your Dog thoroughly after SwimmingIt is imperative that you dry your Cavalier King Charles ears completely when done swimming. If you don't, they may get an ear infection.It's always worth washing and cleaning your Cavaliers ears with a special cleaning solution to avoid any problems.
Get a Dog Life VestIt is actually possible for a dog to drown and happens more often than one would think.It is therefore highly recommended that you get your Cavalier Spaniel King Charles a dog life vest.A life vest will be able to keep your dog afloat even when it tires itself out.
This is an Excellent example of a low cost yet high quality Dog Life Vest.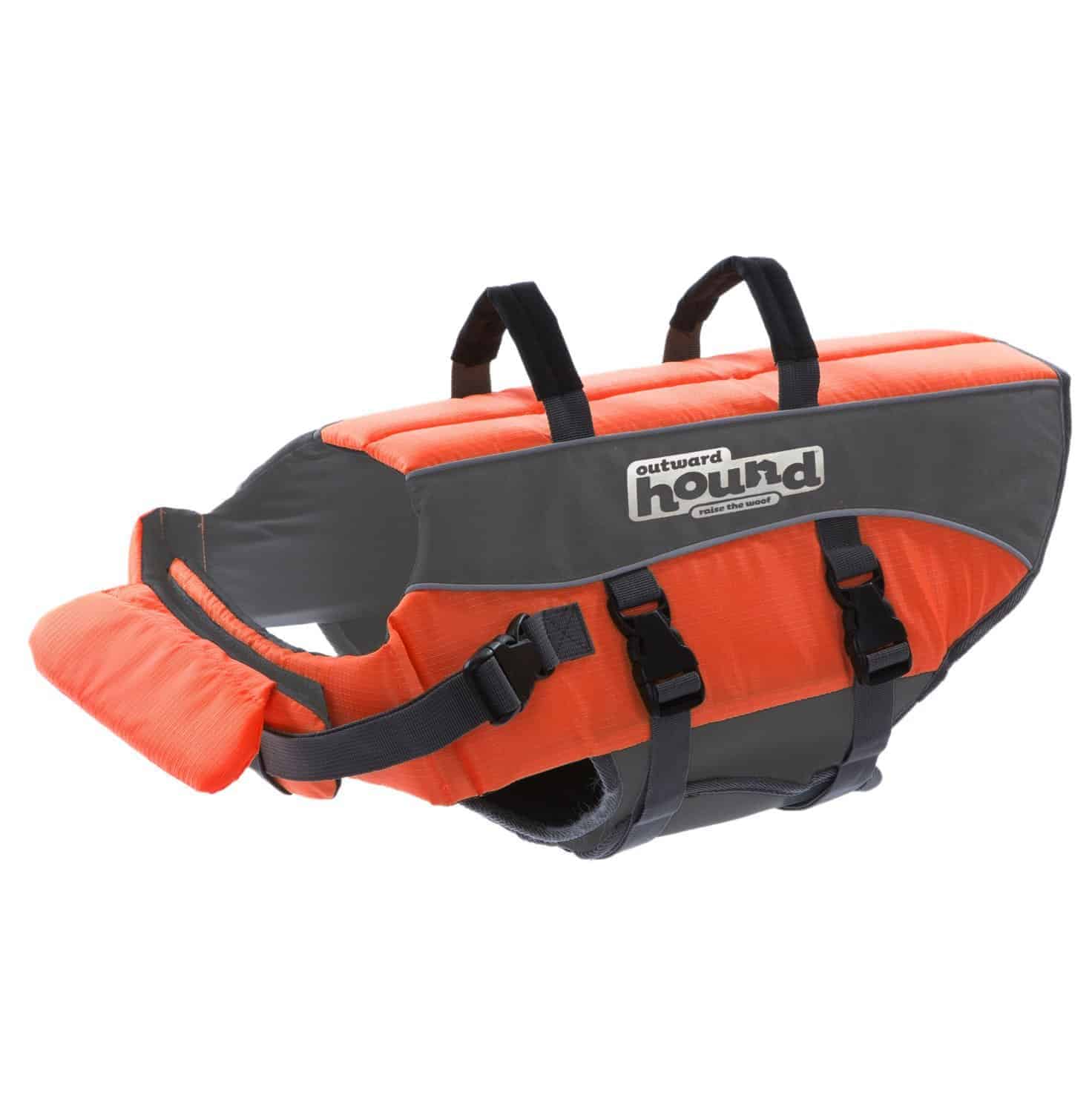 Where can Cavalier King Charles Spaniels swim?
Depending on where you will have different options for Swimming with your Cavalier.
Swimming in the Sea
If you are fortunate enough to live by the sea and better yet, have access to a boat, you may be able to have a real adventurous swim in the Sea.
This is probably better suited to both advanced Human and Canine Swimmers.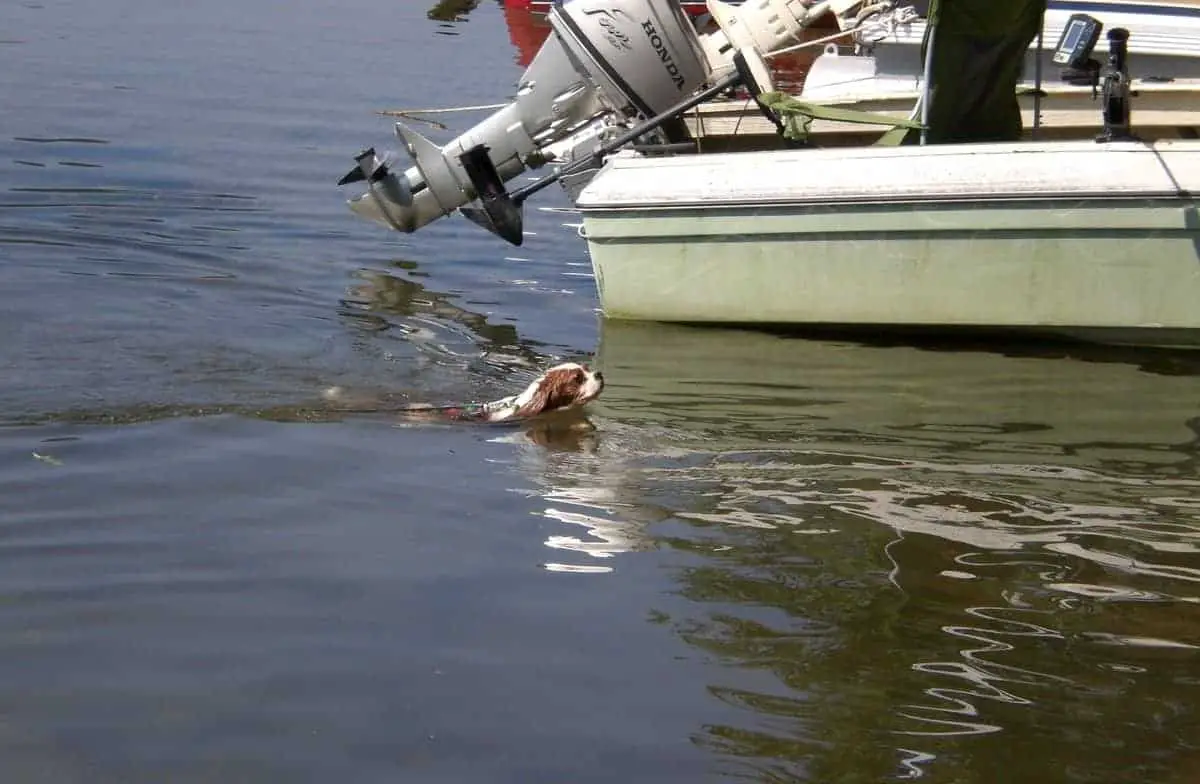 Image courtesy of twitter user @1720maryknoll
Swimming in Lakes
Since Cavalier King Charles Spaniels are toy breeds, swimming in an area with large predators could be dangerous.
If swimming in a lake, ensure you check warning signs prior to entering the water.
This is particularly important for warmer climates where there are hazardous predators such as alligators.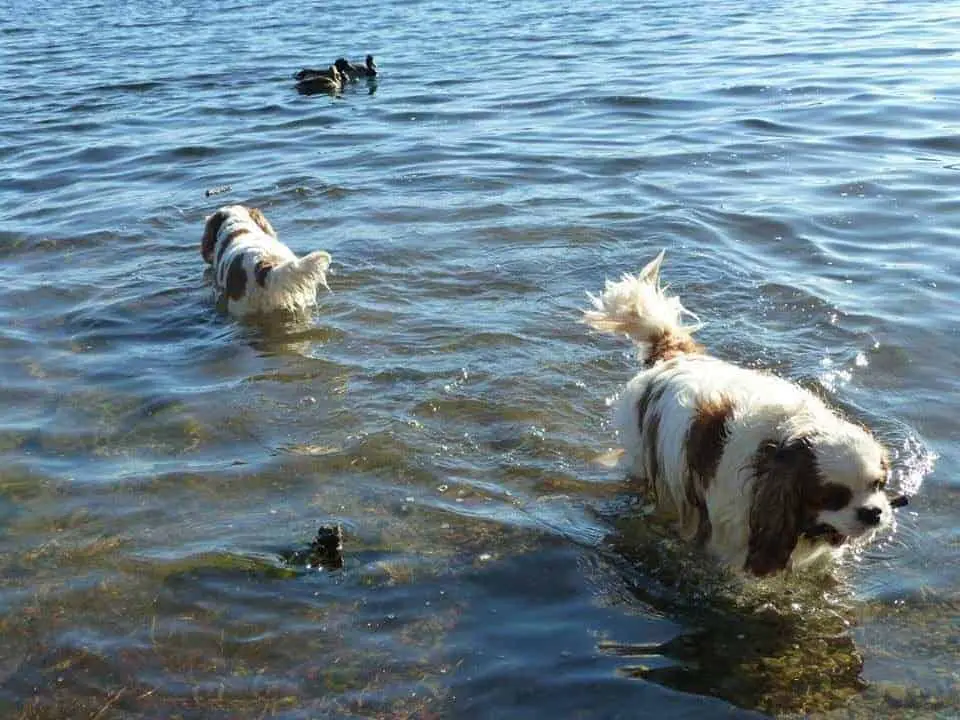 Image courtesy of Twitter user @MsRoseCavalier
Swimming in Outdoor Pools
It's best to keep swimming limited to the day and always have a fence around the pool area for when you are not home.
While a large outdoor Swimming pool works well, a smaller inflatable pool can still provide plenty of fun for your Dog.
Swimming in Specialist Dog Pools
Purpose built Doggy swimming pools and activity centers are a great place to introduce your Cavalier to the water.
Some even offer Hydrotherapy classes available to help relieve pain in older Dogs.
Additional Swimming Tips
Wherever you decide to let your Spaniel swim, ensure you train them to enter and exit the Water safely. Ideally on command.
This is particularly important if you let your Dog swim in your personal pool. If your dog were to get in the pool without you home, you'll know that they can exit the pool by themselves and greatly minimize the risk of drowning.
If you have an older Cavalier King Charles Spaniel, it would be wise to keep a closer eye on them as older dogs will tire faster.
Another step that you can take as a responsible Dog owner is learning CPR for dogs.
Just like performing CPR on humans, it is very easy to learn and might just save your Dog's life.

Using these safety tips, you and your King Charles Cavalier Spaniel will be able to have a great time swimming. Everyone wants to enjoy the beautiful weather the sunshine brings. Be smart and safe when it comes to swimming with your King Charles Cavalier Spaniel.