Are you considering traveling with your four-legged friend?
Perhaps you are worried about leaving him or her with a sitter or in a kennel?
Traveling with your dog may seem like a stressful and complicated experience, but it doesn't have to be.
In fact, with a little preparation, flying with Cavalier King Charles Spaniel dogs can actually be quite fun.
Top tips for Flying with Cavalier King Charles Spaniel dogs (or any other breed!)
One of our friends from Twitter @RealDogFlutie has kindly provided us with some top tips when travelling by plane with your pooch.
Flutie is a frequent flying pooch. And a real expert when it comes to travelling by plane.
Her owner Niki travels often for work and for fun, and almost always brings 5 year old Cavvie, Flutie with her.
So far she has been to 25 states, and will be flying to California this week making it 26.
Flutie always fly's in the cabin. She's yet to experience cargo travel. And she likes it that way.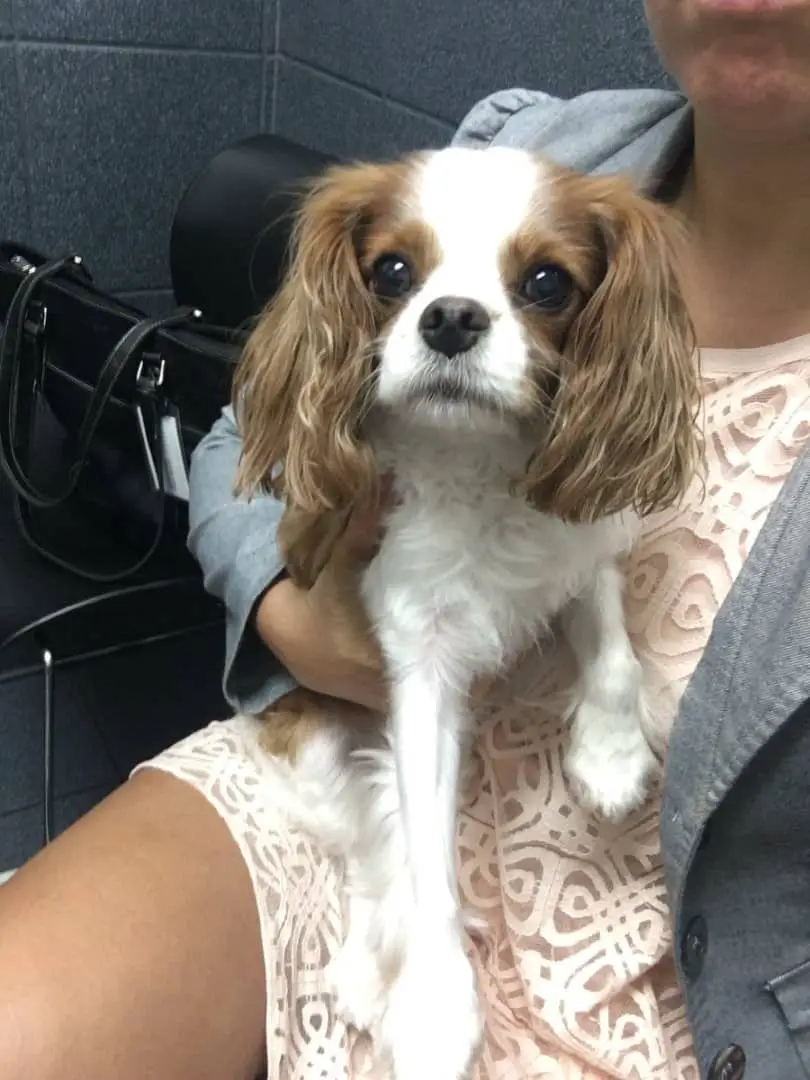 Comfortable carriers.
Make sure you have a good carrier. This is something we have covered briefly before in our crate training post.
There are loads of carriers available on Amazon. Try searching for airline-approved dog carrier.
All of the airlines have similar requirements for in-cabin pet carriers. It's important that they have mesh openings so the dog can get plenty of air. They need to be small enough to fit under the seat in front of you (the dimensions can be found on any of the airlines' web sites).
Budget for additional travel costs.
It's worth knowing you will have to pay extra. Airlines generally charge between $100-$150 each way to fly with your pet in cabin.
Pre-book your pooch on the flight.
Call ahead to let the airline know you'll be traveling with a pet in cabin.
Only so many pets can fly in the cabin each flight. Therefore, it's a better idea to call ahead and have yours added than try to add him or her the day of the flight and risk being turned down because the cabin is already full.
That being said, we have been able to have Flutie added to our flight the same day.
Don't forget to go to the toilet!
Airports provide doggy toilets too! Make sure you use the pet relief areas at the airport before you go through security. Once you get through security, there will be no way to let your pet go to the bathroom.
Make sure you use the pet relief areas at the airport before you go through security. Once you get through security, there will be no way to let your pet go to the bathroom.
Be prepared for a delayed security check.
You should carry your dog through security. You'll have to carry him or her through the x-ray detector (not the fancy one where you stand with your arms in the air). Then, a TSA officer will test your hands. This takes an extra minute or two, so add that into your travel time.
To speed things up through security, we always keep Flutie in the bag with her leash off until the last minute. Then, after we load everything onto the belt, I grab Flutie out of her bag and head over to the x-ray machine.
Don't neglect your pooch during the flight.
Check on him or her a few times throughout the flight. The dog can't come out of the bag during the flight. Flutie usually sleeps the entire way, but I'll always pull her up onto the seat with me just to give her some ear rubs through the bag opening so that she knows I'm there.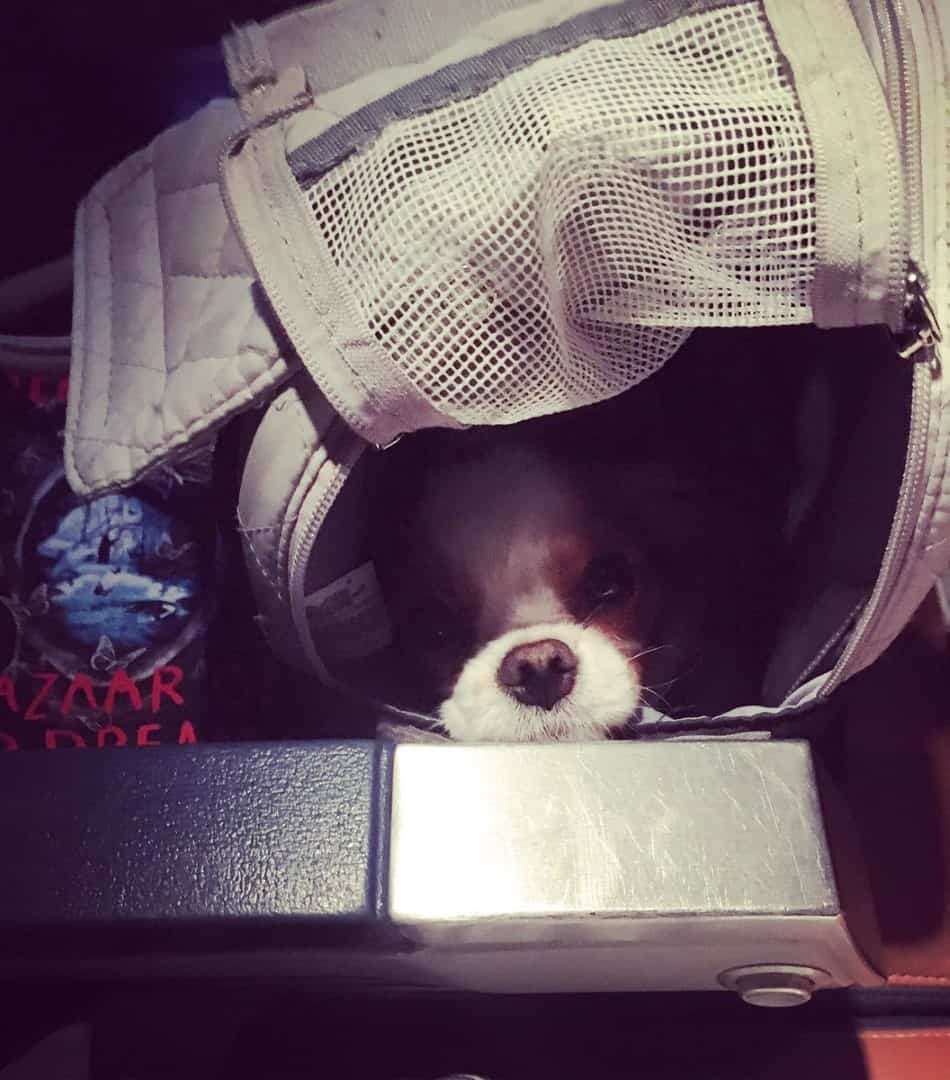 Book pet friendly accommodation.
Make sure your hotel at the destination is pet friendly! While Cavaliers are usually small and quiet enough that you can sneak them in.
It's always a much better and less stressful experience when the hotel is dog friendly. Our favorite brand is the Westin. They have luxury dog beds, and always greet us with a treat and a "Bowser Beer" (chicken or beef flavored water).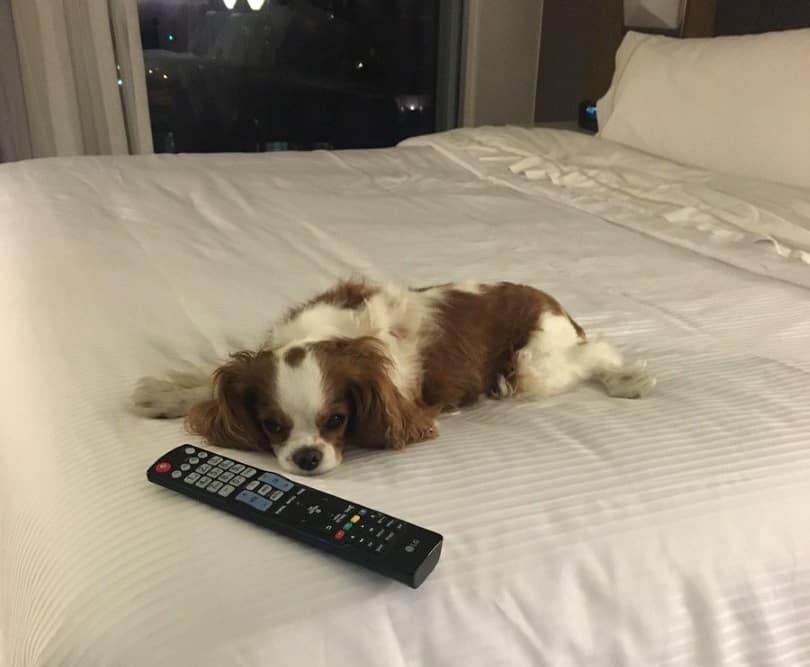 In summary
Niki has been traveling with Flutie since she was a puppy, and will do so for the rest of her life. It costs a little extra in time and money to bring her with her when she fly's, but the memories they have made together across the country have been priceless.
Hopefully you can see that flying with your Cavalier King Charles Spaniel doesn't have to be difficult.
Our friends over at Thinking Of Travel have provided us with their 5 top tips for travelling with your pet. If you have any other tips please let us know in the comments below.