We recently tried out the Groom Room at Pets at Home to see if their Dog Grooming service really lives up to the hype. Find out what we thought in our full Groom Room Review below.
Full disclosure – We were not approached by Pets at Home to produce this review, we booked our Cavalier King Charles Toffee in and paid full price. However, we did ask them to provide some photos during his cut so that we could produce a review of the service.
Why did we choose the Pets at Home Groom Room?

Up until recently, we used a local independent Dog Groomer, her service was excellent, she'd pick up Toffee, provide a full groom (cut, clean, nails etc) and return him back to us. She was extremely good value for money and always did an amazing job.
So why did we stop using her? She became allergic to Dog Hair!
Apparently, this is surprisingly common and having spoken to multiple groomers since, have heard similar tales. One told us she suddenly became allergic to hypoallergenic breeds.
Based on our previous experience with an independent Dog Groomer suddenly becoming allergic to Dog Hair and growing tired of attempting it ourselves, we decided that a chain of groomers might be a good choice to ensure we were never left without a groomer again at short notice.
Pets at Home was a company we were familiar with for selling a wide range of animal products, food, clothing, accessories etc and also selling small pets, such as rabbits, hamsters, and fish.
It seems that recently they've introduced a Dog Grooming service into some (if not most) of their stores, presumably as it is a highly lucrative market.
After chatting to one of the representatives in store, we decided to give them a go.
How was the service?
Excellent!
We opted for a full groom, with wash and nails and it was around £40.
We booked Toffee in with a few days notice for a weekday appointment and simply turned up on the day.
The store had convenient car parking right next to the door and the Groom Room was easy to find (near the back of the store), although we had already visited the store in advance, so knew exactly where to go.
We were immediately greeted by three smiley, enthusiastic and helpful staff members who all seemed like they genuinely enjoyed what they did and were happy to be introduced to Toffee.
We told them how we liked to have him cut and led Toffee into the parlor. He was somewhat reluctant to go in at first, but with a little persuasion, he soon settled.
We were told it would take around an hour and a half and that they'd call us 10 minutes before he was ready to be collected, which was a pretty accurate estimate.
Upon returning, Toffee was ready and waiting for us to collect. Cut perfectly, exactly how we'd asked, looking smart, smelling fresh and even adorning a cool baby blue bandanna.
Before Photo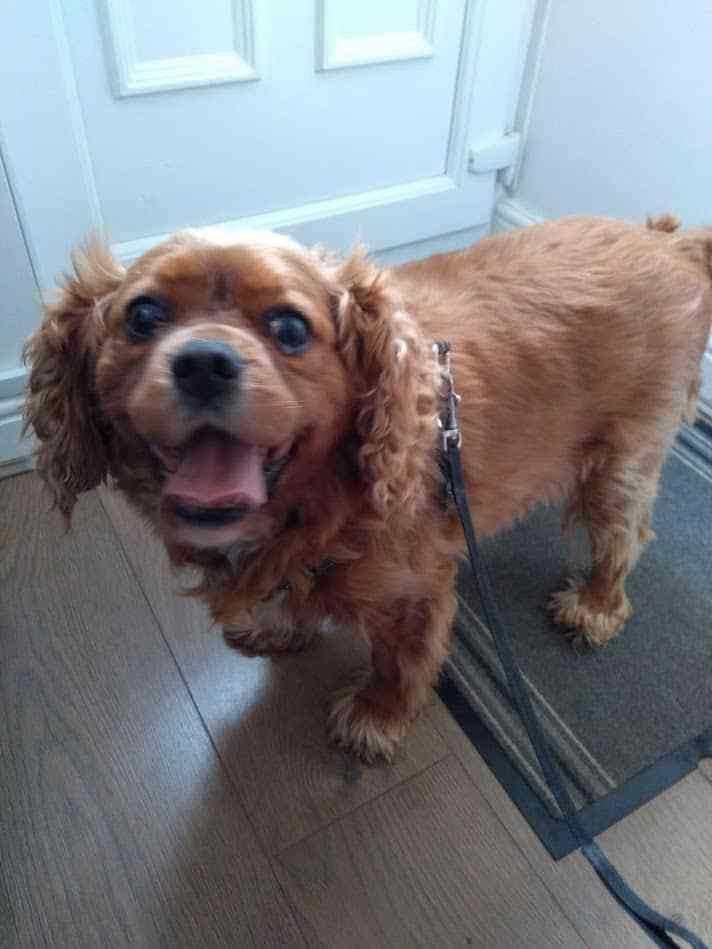 During Photo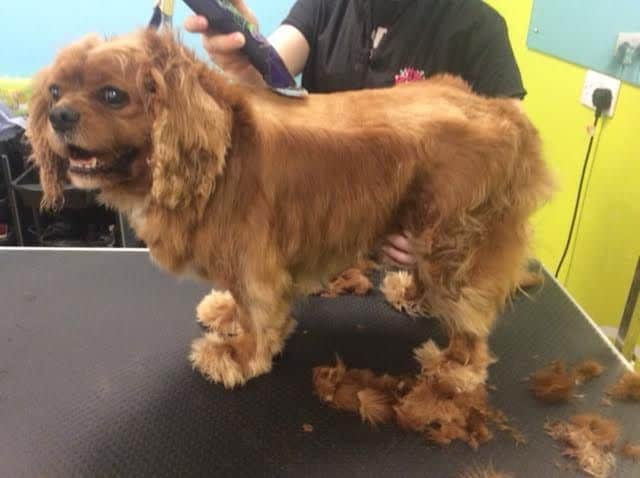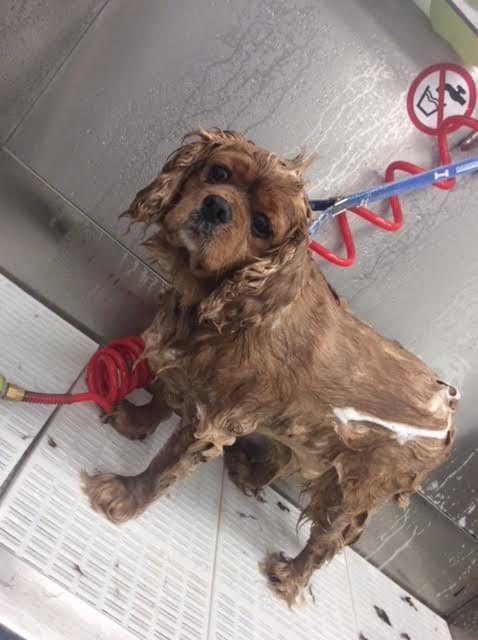 After Photo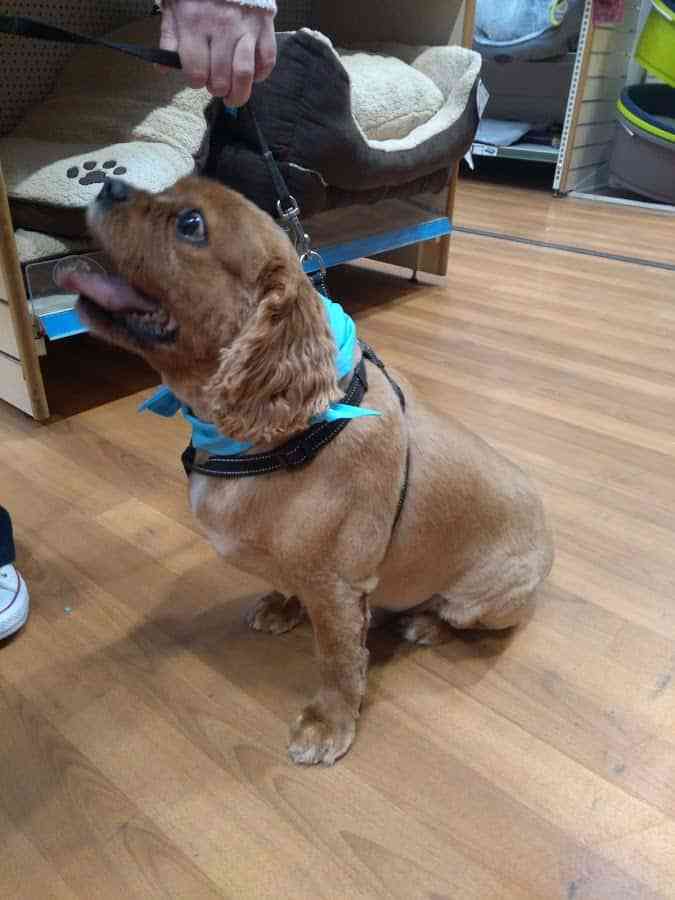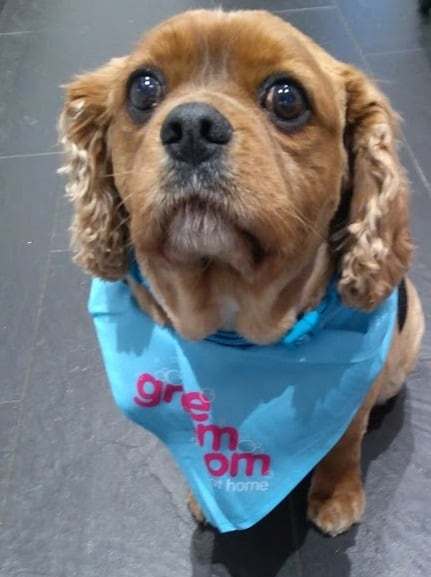 Pets at Home Groom Room Review Summary

Overall the experience was excellent and we definitely left with a positive impression, a clean Dog and a cute new blue dog collar – that's presumably why they place these at the back of the shop!
PROS
Excellent service
Enthusiastic Staff
Convenient
Short wait times
CONS
More expensive than a local independent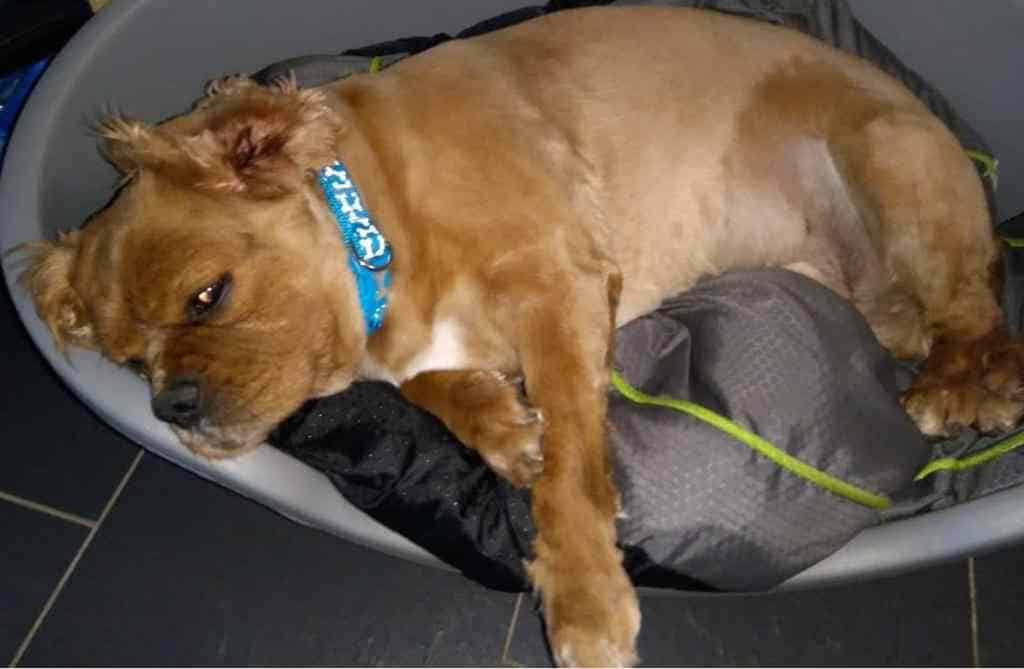 While they may be a little pricier than a local independent, they provided a warm welcome, convenient service and the overall results were fantastic. It was great to be able to book at short notice without a long waiting list. We were really pleased with the results and look forward to going back.
If you'd like to find out if your nearest store offers the groom room service you can use their store locator here.