Cocker Spaniels' coats are complex in nature, with a short undercoat topped with longer, silky hairs that are prone to matting and tangles. A good brushing ritual is the key to keeping your Spaniel's hair smooth and clean, and having an appropriate brush is the best way to ensure that the grooming process is comfortable for both you and your dog. Find out how to pick the best dog brush for Cocker Spaniel Below.
Top picks: Best Dog Brush for Cocker Spaniel
Prerequisites to Grooming
Aside from an appropriate brush, another essential tool that you must have is patience. Keeping your Cocker Spaniel's coat looking beautiful and smooth will require a significant amount of time and effort, but the results will be well worth it. Cocker Spaniels are known for not liking to be groomed. Source. Therefore, if possible, having a regular grooming routine that starts when the dog is a puppy will be beneficial.
Remember to stop grooming immediately if the dog becomes too anxious or appears to be in pain. The key is for grooming to be an enjoyable experience for the dog. Be sure to be as gentle as possible and always use a calm and reassuring voice during grooming.
How to Brush your Cocker Spaniel
To assist with grooming especially difficult coats, a detangling spray may be used prior to brushing. Detangling sprays work much like the conditioners that humans use on our own hair by improving elasticity and helping to prevent hair breakage.
To keep matting at bay, it is important to not only brush the top layer of hair, but to also extend below to the undercoat. When brushing your dog, ensure that the undercoat is being reached by allowing the brush bristles contact the dog's skin.
Look for a brush with longer bristles that can penetrate through all layers of hair. To avoid tangles, be careful to only brush in the direction of the natural hair growth (follow the coat's grain). Source.
While brushing, gently grasp (do not pull) a small section of hair near the skin. Work your way up with small strokes from the ends of the hair to where you are grasping.
Use of a smaller brush might be beneficial to help keep the bristles only on the hairs with which you are directly working. When a section is complete and all tangles are removed, a larger brush may be used to brush all layers of hair together, allowing the bristles to contact the dog's skin.
There are a few areas on the coat of a Cocker Spaniel that are prone to matting and require more attention. These areas typically exist wherever the hair is the longest like on the ears, legs, and chest.
These areas can be sensitive (particularly the ears); selecting a brush with flexible pins or bristles rather than stiff ones may help keep your dog comfortable.
 Brush these areas one at a time, slowly and gently, especially if there is existing matting and tangles. Use of a comb or slicker brush may be helpful in removing particularly problematic mats. If your dog begins to resist, cease brushing and continue again once the dog is calm and relaxed.
This very informative video gives lots of great tips on how to groom your Cocker Spaniel.
How to Choose a Brush
A hhigh-qualitybrush is worth the investment especially since it should be coming in direct contact with your Cocker Spaniel's skin and will be used very frequently.
Although they may feel more comfortable to the touch, brushes with bristles topped with small bulbs can actually promote tangles and hair breakage.
Instead, opt for brushes with straight pin bristles that have rounded tips. This type of brush will prevent tangles, and you will not have to worry about the bulb breaking off and the exposed edges of the bristle scratching the dog's skin.
Frequency of Brushing
It goes without saying that the more frequently a Cocker Spaniel is brushed, the easier (and less painful for you and your pet) it becomes.
Depending on the dog's activity level and type of hair, Cocker Spaniels should be brushed at least once a week, but once every three days or even daily, if needed, is recommended. Source.
One simple way to gauge how frequently to brush a Cocker Spaniel's hair is to pay attention to how much the dog sheds during each brushing session. If there is a lot of loose fur on the brush after each grooming, you may need to increase the frequency.
However, if you do not notice much loose hair, you can decrease the brushing frequency. Keep in mind that as the weather begins to warm, Cocker Spaniels will shed much more to rid themselves of excess hair.
Selecting a brush that is easy to clean may also be an important consideration. Dirty brushes can cause skin infections if not properly cleaned.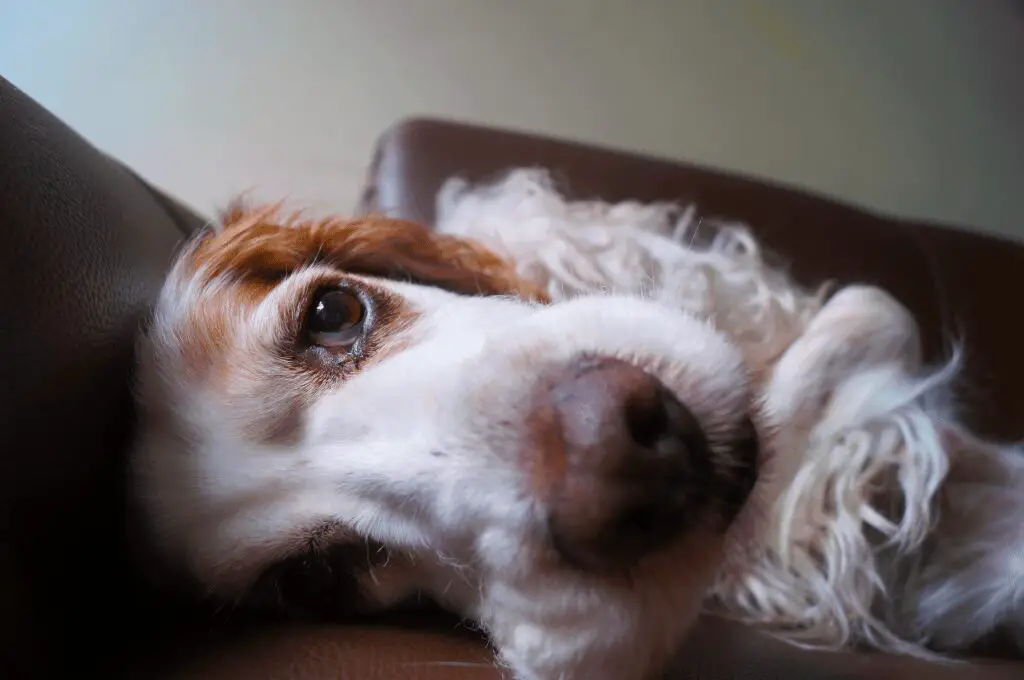 Top Picks for Best Brushes for your Cocker Spaniel
Hopefully y,ou're now aware of the importance of brushing your Dog, have  basic idea of how to accomplish this and an understanding of the different types of brushes available, Below we've highlighted some of our favorite recommendations.
This brush features straight wire pins with rounded tips that prevent tangles, a great choice for brushing your Cocker Spaniel's undercoat.
The pins are durable enough to remove tough mats, but are still comfortable enough for daily brushing if used gently.
This brush would be a good option for dogs that shed a lot because the small spacing between pins ensures that loose hair is effortlessly gripped and removed.
This brush features a button on the back side that retracts the pins so that the captured hair can be easily wiped away and the brush can be thoroughly cleaned after each use, keeping bacteria at bay.
The small size of the brush head makes it ideal for focused brushing, but it may take a while to properly brush the entire dog, something to consider especially if your Cocker Spaniel does not like being groomed.
PROS
Retractable pins make cleaning as easy as pressing a button
Pins are close together and trap more hair
Brush head is small, enabling more focused brushing
Can be used to easily remove mats
CONS
Pins are very short and may not reach through all layers of hair
Pins are hard; you should not brush too forcefully when using this brush
This dual-headed brush is perfect for someone that does not have the space to store multiple grooming tools or for someone who wants an all-in-one product for a good value.
One side features long, bundled nylon bristles that grip and remove hair from the upper layers of a Cocker Spaniel's coat.
The bristles also work to redistribute a dog's natural oils throughout the hair, resulting in a shiny, healthy coat. The flexible bristles are comfortable on a dog's skin, and may also be used to remove debris from the hair.
Durable metal pins are found on the reverse side of the brush. These pins are flexible and long enough to reach the dog's skin. The pins have rounded tips that prevent tangles and are also easy to clean.
For best results, the pin side of the brush should be used first to remove tangles or mats. Then, the bristle side can be used to remove remaining loose fur and to groom your Cocker Spaniel's longer topcoat.
PROS
The brush comes in two different sizes, medium and large
Two different sides can be used for different grooming purposes
CONS
Brushing with and cleaning and the bristle side of the brush can be difficult because the bristles are very tightly packed
The brush comes either in high quality wood or lower quality plastic with no clear way to specify your option while ordering
The fine metal pins of this brush are slightly bent near the top to increase penetration into the undercoat while preventing the dog's skin from becoming scratched.
The large brush head is long and skinny, so you can orient it to use the skinny side for more focused brushing and to remove mats and tangles while the long side can be used for full-coat brushing.
The large size of the brush also allows for a quicker grooming session and is ideal for Cocker Spaniels that do not like to be brushed.
This brush also makes cleanup quick and painless. Simply press the button on the back of the brush head and the pins will retract, enabling you to easily wipe the brush head clean.
When not in use, you can also retract the pins into the brush head for storage so that they do not injure your dog or become damaged if your Cocker Spaniel decides to use the brush as a chew toy.
PROS
Self-cleaning with a touch of a button
Long and skinny design of the brush head allows for focused brushing as well as general brushing
Metal pins won't scratch a dog's skin
Ergonomic handle design for more comfortable use
Pins can retract when not in use to prevent injury or brush damage
CONS
Isn't as efficient as other brushes in removing loose hair
Pins are spaced close together and a little bit of pressure is needed to penetrate all layers of the hair
Final Thoughts
There is no "one-size-fits-all" solution when it comes to picking the best brush for your Cocker Spaniel.
Luckily, most brushes on the market are relatively affordable, and you may find that you have to invest in multiple brushes until you find one that your Cocker Spaniel will tolerate.
A good starting point is to try the Hertzco Self Cleaning Slicker Brush, which combines the penetrating benefit of a pin brush while providing the functionality of a bristle brush with its thin, flexible pins.
This durable brush will withstand the frequent brushings that Cocker Spaniels need, and its ergonomic handle will enable your hands to remain comfortable from day to day.
With the added benefit of its self-cleaning brush head, your Cocker Spaniel can have a coat that not just looks healthy, but is healthy and clean.