Keeping your Cavalier King Charles Spaniel's coat clean and healthy requires regular attention and brushing, however, this needn't be a difficult task. Equipped with the best grooming brush for your pet's needs, the daily brushing routine can be less stressful for you both. We've compared a few popular brushes to help you find the best brush for your Cavalier King Charles Spaniel.
Our Favorites: Best Brush for Cavalier King Charles Spaniel
Top Tips for Brushing Your Cavalier King Charles Spaniel
First of all, it is important to understand the type of fur and the best brush suited to maintaining a healthy coat. A Cavalier King Charles Spaniel has different types of fur across its body; shorter hair on its back and longer feathered fur on its chest and legs. This longer fur can become tangled and matted, so it's best to brush your dog every day to keep it healthy and neat.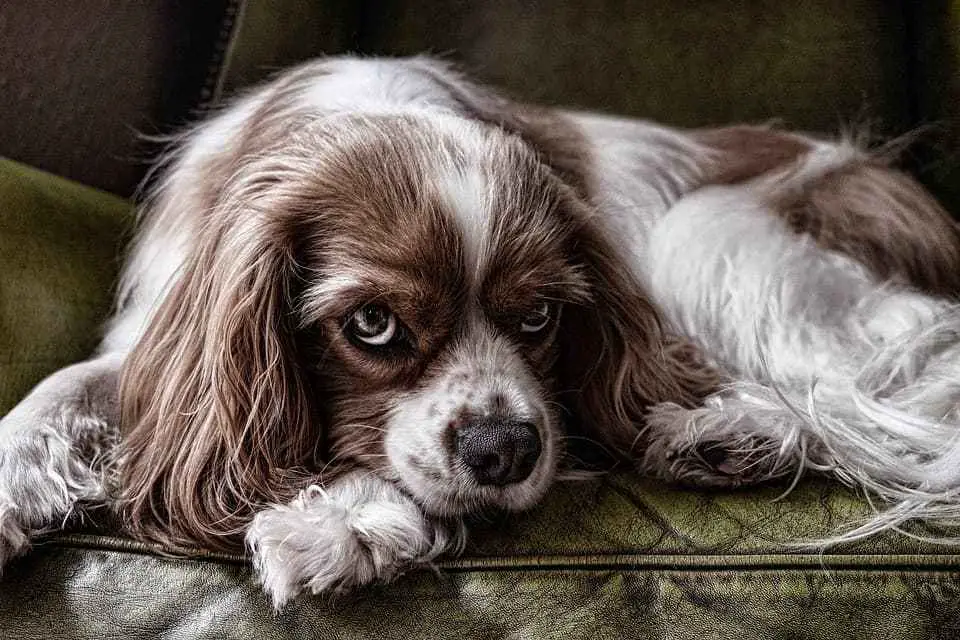 See Also
Best Dog Brush for Double Coat: And How to Keep It Clean Click here
What Type of Brush is Best?
There are two types of brush recommended for this breed; firstly the slicker brush which usually consists of many firm metal pins which work through the coat to remove excess fur as well as untangling the longer sections.
It is also recommended to find a good quality bristle brush; this finer textured brush will help catch the coat's natural oils and distribute them evenly through the fur. Bristle brushes are great for maintaining a shiny and healthy coat.
What Should You Look When Purchasing a Brush?
Some key things that you might want to look out for when purchasing a grooming brush are:
Ergonomic handle to help you grip the product
Durable pins that won't become bent and cause discomfort to the dog
Gentle tips; sharp pins can scratch the dog's skin
How Often Should You Brush Your Dog?
If possible, it is best to brush your dog once a day to keep the fur clean and neat. With this in mind, look out for a brush that is comfortable enough for both you and your dog to be used every day.
This video contains lots of helpful grooming tips for you and your Cavalier King Charles Spaniel.
Our Top Choices
When looking for a Dog brush, there are so many options available. Below you'll find our top picks, with the reasons we think they make a great choice for your Cavalier King Charles Spaniel.
The Hertzko Self Cleaning Slicker Brush is designed to be an easy-clean solution to the tried and tested slicker brush. While these types of brushes with study metal or plastic pin bristles are great for untangling and dematting fur, they can be difficult to clean. Pulling fur out from the brush or washing between the bristles can cause them to become bent; this brush provides a good alternative, with its easy clean function. The comfort grip and non-slip handle will allow you to keep a firm, comfortable hold of the brush while grooming your dog.
While this brush has some great features, you may also wish to purchase a medium-bristle brush to finish brushing your dog. There are some brushes on the market that feature double-sided brush heads with both pins and bristles, however as this brush is pin-only then an additional purchase might be necessary.
PROS
Sturdy bristles
Comfortable grip
Easy-clean feature for removing hair from the brush
CONS
Pin-head only
Multi-purpose alternatives available
Another option is the HappyDogz Pro Slicker Brush, which features a wide surface area which will allow faster grooming of larger dogs. The brush is designed to be durable and ergonomic which should mean that it is strong enough and comfortable enough to be used for frequent or lengthy grooming. The metal pins will allow you to remove matted or tangled fur, particularly from the feathered areas of your Cavalier King Charles Spaniel's fur. This brush will also reach down to massage the dog's skin, improving blood flow to help maintain a healthy coat.
Unlike the Hertzko Self Cleaning Slicker Brush, this product does not have any easy clean option. You may need to be careful when removing fur from the bristles to ensure that they do not become bent in the process; bent bristles may provide a less comfortable experience for your dog.
PROS
Sturdy pin bristles
Wide surface area for faster grooming
Ergonomic handle
CONS
No easy-clean feature
Difficult to extract fur
The Oster Large Combo Brush for Dogs features a double-sided head, with a metal pins on one side and bristles on the other. The pins are designed for untangling and de-matting your dog's fur while massaging the skin. The round tips at the end of the pins will help ensure that the brush does not scratch or hurt your dog.
The bristle brush is recommended for dogs with medium length fur such as a Cavalier King Charles Spaniel, as they provide extra care by distributing oil evenly throughout the fur. This helps avoid greasy build ups in certain areas and dry fur in others. The longer metal pins of this brush while providing more flexibility and allow the brush to contour better to your dog's body. However, this also means that over time they can become bent and less effective.
PROS
Double-sided head
Pins for untangling and de-matting
Bristles help keep maintain a healthy coat
CONS
Pins a little fragile for prolonged use
The FURminator Dog Dual Brush also features a double-sided head, with both a pin brush and a bristle brush to help care for your dog's fur in two different ways. The pin brush is best used first, to detangle the fur and remove any matting. Once brushed through thoroughly you can use the bristle side of the brush to go over the fur and brush through its natural and healthy oils. When grooming a Cavalier King Charles Spaniel, this is useful for the areas with longer fur such as the ears, chest, and feet.
What's more, this grooming brush is also made from anti-microbial plastic which will help reduce bacteria build-up from dirt and dead skin.
Compared to sole-purpose slicker brushes, this product does, however, have fewer pins and less surface area, making it potentially less efficient at grooming. Its dual purpose can be considered very handy, but if it's a high quality slicker brush you're after, there is some strong competition in the market.
PROS
Double-sided for dual purpose
Anti-microbial plastic
Good for untangling and oil distribution
CONS
Smaller surface area than some other brushes
Sturdier alternatives available
This pocket-sized Kong ZoomGroom brush is a great option for people that may need to brush their pet on the go or take a small brush with them when traveling. Although perhaps not as sturdy as the metal alternatives, this product is designed to help remove excess hair quickly and conveniently. Its thick bristles massage the skin to improve blood flow and coat condition, as well as promoting natural oil production for a healthy shine.
A drawback of the design is the lack of handle, which makes it less suitable for longer periods of grooming than other products on the market. It is best used for quick, convenient brushing. Furthermore, the thicker bristles may be less effective when grooming the feathered fur of a Cavalier King Charles Spaniel, around the chest and paws, which can become matted.
PROS
Small Size
Good for removing loose fur
Massages skin
CONS
No handle
Less suited to untangling or de-matting
Our Choice for Best Brush for Cavalier King Charles Spaniel
Out of all of the products listed above, The Best Dog Brush for Cavaliers has to be the Herzko Self Cleaning Slicker Brush.
The easy-clean feature ensures that you can groom your dog just as efficiently with each stroke. The build-up of loose hair in a brush can be a real pain and it means that with each stroke the pins get less deep into your dog's fur.
An additional benefit of this particular brush is that you are able to wipe the surface of the brush clean each day. This is an easy way to prevent the build-up of bacteria and dead skin that can stay on a brush even once the fur is removed.
We would recommend this product to Cavalier King Charles Spaniels who are looking for a budget-friendly, yet effective dog brush.
FAQs Best Brush for Cavalier King Charles Spaniel


How often should you brush a Cavalier King Charles Spaniel?
Daily! Cavalier King Charles Spaniels' coats require regular brushing with a medium-bristle brush.
How do you brush a Cavalier?
Begin by lightly spraying the silky coat with water and brushing about the ears, skirts, and fringe. Brushing removes dead hair, and the coat should be flat and velvety.
What is a slicker brush?
Slicker brushes contain thin, short wires that are closely spaced on a flat surface. They are used to remove mats from medium-to-long-haired or curly-haired dogs. There are many various types of slicker brushes on the market, but choose one with the appropriate size and a flexible handle to make brushing your dog simpler.