Dry, itchy, or inflamed skin are problems not exclusive to human beings. Dogs can suffer from many of the same irritating skin issues as their owners. In fact, itchy skin as the primary complaint accounts for nearly half of all skin-related veterinarian visits (Source).
Luckily for our beloved furry friends, basic skin problems can typically be easily resolved. One such treatment is through the use of special shampoos specifically formulated to moisturize and protect dry or itching skin.
Our Top Picks
Causes of dry or itchy skin
While it is usually very easy to tell if your dog is having trouble with dry and itching skin (frequent scratching, biting, or rubbing; visible dandruff on the fur; patches of hair loss and visibly inflamed skin) pinpointing the cause is a whole other story.
It is very important to quickly determine the cause of your dog's skin condition because some problems could become very serious if left untreated.
Environmental conditions are some of the more benign causes of dry or itching skin in dogs (Source). If you notice your dog itching more as the weather gets colder or as the humidity in the air drops, those factors could very well be the cause.
Another common cause of dry skin is excessive bathing or bathing your dog with harsh soaps. To see if this is the cause, reduce the frequency that you bathe your dog, and use one of the shampoos that we recommend when you do bathe him.
Allergies are another cause of dry and itching skin. Just like humans, dogs can develop allergies—even seasonal allergies! Pay attention to the timing of when your dog started to itch, and keep track of new conditions that your dog was exposed to. Did the itching begin after a walk to a new area of the dog park that had recently been sprayed with pesticides? Did your dog come in contact with another dog or another animal that he had not been in contact with before?
Another common cause of allergies in dogs is food allergies. Food allergies usually crop up after a dog's diet has been significantly changed. This change can include simply changing the brand of dog food or feeding your dog table scraps that he had never before eaten.
The most common food-related allergens for dogs are most types of meats (beef, chicken, pork, and fish) along with dairy, eggs, and soy-based products (Source). If you suspect that your dog has a food allergy, an elimination diet (after a consultation with your vet) will help you to pinpoint exactly what the offending allergens are.
Other causes of itchy, dry skin in dogs are parasites and infections. Some parasites (like fleas and lice) and some infections (like ringworm) can be transferable to humans. Take your dog to see a vet if you are even remotely suspicious that parasites or infections are the cause! Infections are especially dangerous as they are indicators of a much larger problem. You can also buy Flea and Tick Shampoos to help cure an outbreak or just keep them at bay.
For all causes, when in doubt, it is critical that you take your dog to see a vet as quickly as possible. Do not just assume that the issue will clear up on its own.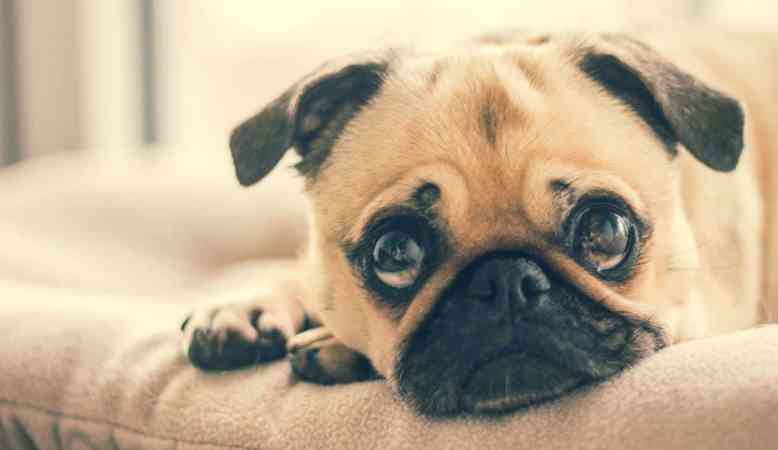 What to look for in a dry/itchy skin shampoo
So you've taken your dog to the vet or have otherwise deduced that his dry and itching skin isn't due to some serious underlying problem. Your next course of action is to try bathing your dog with a shampoo formulated specifically to gently moisturize and heal irritated skin. A great place to start is to only consider shampoos that are free of chemicals or other harsh ingredients. You should also avoid artificial fragrances and colors.
Shampoos with natural and organic ingredients are usually the most gentle for irritated or sensitive skin. One of the most beneficial ingredients for dry and itching skin is oatmeal. In shampoos, oatmeal works as a moisturizer as it traps moisture on the skin by forming an oily layer. Other moisturizing components to look for include Shea butter or other natural kinds of butter and oils.
You should also look for shampoos that have plant-based extracts like the anti-inflammatory burdock root, the antiseptic peppermint, and the skin-healing calendula.
Reviews
This concentrated formula not only relieves a dog's dry and itchy skin, it is also safe for use on other irritants like bug bites, burns, and allergies. It can also repel fleas and other bugs. This shampoo can be diluted a little bit to tackle difficult skin, or diluted a lot for general moisturizing and maintenance. It can be used just like a regular shampoo, but it must be left on for five minutes for best results.
Although this shampoo doesn't contain oatmeal, it does contain moisturizing shea butter and sunflower oil. This shampoo is also free of preservatives, artificial colors, soaps, and artificial fragrances. The main listed ingredient is tea tree oil which has been found to be poisonous to dogs in large quantities, so make sure that you keep this shampoo out of his reach when it's in its non-diluted form.
Aside from curing the itch and providing moisture, this shampoo has a wonderful smell and leaves hair soft and shiny.
PROS
All natural formula with no added fragrances or soaps
Leaves coat soft and shiny
Very effective at eliminating the itch
CONS
Extra added step required to dilute
Tea tree oil may be poisonous to dogs in large quantities
Formulated with moisturizing oatmeal and soothing aloe, this shampoo combats skin irritation, promotes healing, and re-moisturizes sensitive, dry skin. It is all natural, free of drying soaps, and efficiently cleans a dog's coat, leaving it soft, and smelling great! You and your dog will love the lingering scent of almond and vanilla.
Another great benefit of this shampoo is that it will not wash off any topical flea or tick medications that you may have put on previously. For extra moisture, there is also a conditioner made with similar ingredients to complement the shampoo. The combination of shampoo and conditioner will work well for dogs with all types of coats. However, this shampoo is not recommended for puppies that are less than 6 weeks old.
PROS
Contains oatmeal and aloe
Free of chemicals and artificial ingredients
Will not wash off topical flea medications
Conditioner version is also available for extra moisture
CONS
Not recommended for puppies younger than 6 weeks old
While treating dry and itchy skin is one method to reduce scratching, treating the root cause of the itch is another method. This shampoo is formulated specifically to provide relief to dogs with allergies and sensitive skin (common causes of dry or itchy skin). The soap-free shampoo was formulated by a veterinarian and includes soothing aloe vera and vitamin E for ultimate relief.
You can feel comfortable using this shampoo as often as needed, even on puppies! Its tear-free formula won't dry out the skin with repeated use, and it will not affect topical flea and tick treatments. Although it contains natural ingredients, this shampoo isn't all-natural. However, it is a very simple shampoo with only four ingredients.
PROS
Provides relief to dry and itchy skin caused by allergies
Contains aloe Vera and vitamin E
Won't affect topical flea treatments
CONS
Final Thoughts
Depending on the cause of your dog's itchy and dry skin, our top picks are the Earthbath Oatmeal & Aloe Shampoo and the Vet's Best Hypo-Allergenic Dog Shampoo for Sensitive Skin.
We recommend the Earthbath Shampoo if you are simply looking for a shampoo to relieve itching and dryness not caused by allergies.
However, if your dog does have allergies, we recommend using the
Vets Best Shampoo.
While using a shampoo might seem like a quick way to relieve your dog's irritated skin, any long-term itching or dry skin should be evaluated by a veterinarian. If you are in doubt, there is no at-home guessing or treatments that are better than just taking your dog to the vet to figure out the root cause of the problems.